We are very happy to welcome more and more guests. As you may know, our hotel has never closed for overnight stays. Hotel guests can again have breakfast, lunch and dinner by take-away. The bar, terrace and restaurant are closed. To this end, we have adjusted our working method and our rooms on a number of points. This allows you to enjoy safe and relaxed in our hotel & take-away facilities. You can read all about it on this page.
PLEASE NOTE, VERY IMPORTANT!
Do you have any cold-like symptoms, including cold in the nose, runny nose, soar throat, mild cough or a temperature higher than 38 degrees Celsius/100.4 Fahrenheit? If yes, you are requested to stay home and
not to come to the hotel.
It is important that you follow the instructions of the hotel staff members during your stay with us. Additionally, all guests and staff members at our hotel are requested to carefully follow the precautionary measures below: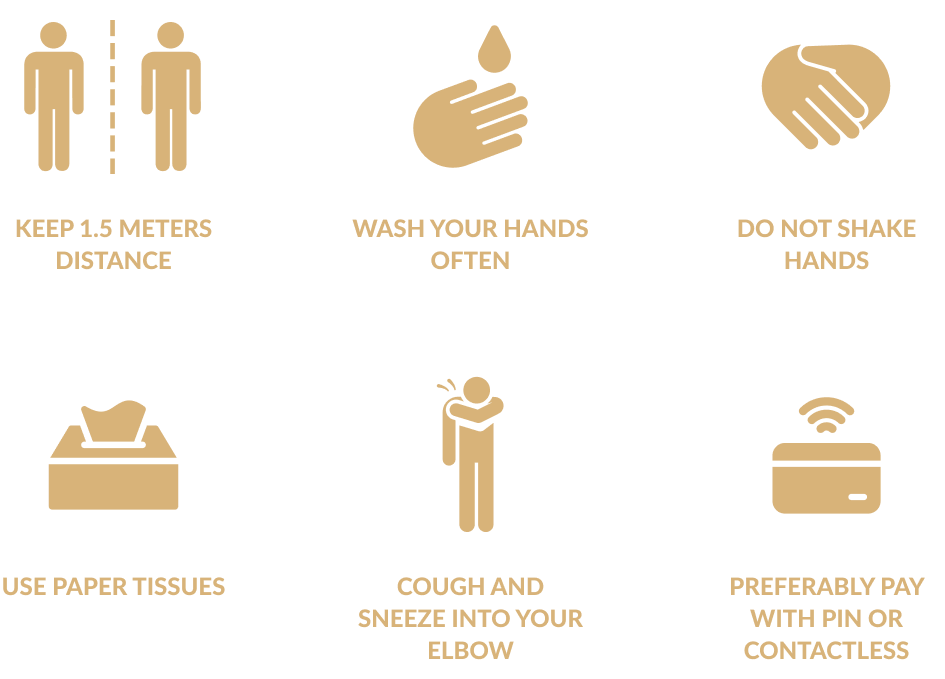 REGULAR MEASURES:

The starting point for our adjustments is the guidelines and recommendations of the government.

O

ur employees have received instructions on how to act under Corona.

There are additional protocols for cleaning and hygiene.

Face masks are mandatory in all public areas.

We accept only payments by card (pin or credit card) in our hotel. We do not accept cash payments at the moment.
OVERNIGHT STAYS
Our rooms are professionally cleaned every day and the door handles on all doors in our hotel are cleaned several times a day. All our emloyees wash their hands every hour.
We would like to point out that, in connaciotn with the legal identification requirement, all guests must be able to show a valid ID upon arrival at the hotel. Minimum check-in age is 18 for all guest if no parent is present. If you do not comply with this, we reserve the right to refuse you and/or your guest(s).
Arrival at the hotel
We would like to welcome you personally, we show you the way and we are open to questions.

In the lobby you also have the opportunity to clean your hands after your trip.
Appropiate distance in the hotel
At various places in the hotel you will find measures and markings with which we want to guarantee the 1.5 m distance. These are places that several people use or pass each other. We ask you to follow these measures and markings.

We request that you respect the safe distance to other guests in traffic areas, such as hotel corridors..
Hygiëne in the hotel
We guarantee regular disinfection of exposed surfaces such as door handles, card terminals and lift buttons with antibacterial liquids.

The sanitary facilities in your hotel room and in our toilets are cleaned with extra care and disinfectants.

We offer our guests disinfectant dispensers in public areas.
FOOD & BEVERAGE
Breakfast
If you place your order on the breakfast form at the reception, you can pick up the breakfast package during our breakfast times at the pick-up counter in our restaurant.
Lunch & dinner
Hotel guest can order from the à la carte menu. Pick-up at the counter in our restaurant.
All drinks must be consumed in the room.
For non-hotel guests it is possible to order Valk@Home and collect the order at our pick-up counter in the restaurant.
After 19:45 it is no langer allowed to order alcoholic drinks.
Orders can also be placed via https://www.thuisbezorgd.nl/van-der-valk-hotel-rotterdam-blijdorp
Terrace
From April 28, the terrace is open daily from 12 P.M. to 6 P.M.​
FREQUENTLY ASKED QUESTIONS
Is it possible to have lunch in the restaurant?
No, our restaurant is closed but the terrace is open daily from 12 P.M. to 6 P.M.​
Is it possible to book a hotel room?
Yes, hotel stays are available.
I have booked a hotel room on the basis of a non-refundable rate. Will I get my money back in case of cancellation?
No, there won't be any restitution in case of a non-refundable rate.
Can I still make a reservation for a meeting room?
​We are available to answer your questions about room rental. Please feel free to contact our sales department by telephone or by email at sales@rotterdam-blijdorp.valk.nl.
Kind regards,
Van der Valk Hotel Rotterdam-Blijdorp


Version April 22 2021